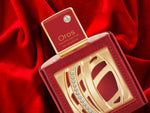 As scientist finds pleasant smell make the female and male face more attractive to each other. If a pleasant smell is present, it becomes more attractive for both genders.  Armaf perfume has the power to evoke feelings of love, happiness, peace, and energy. Your perfume is the first impression that you make when you are at parties, office weddings a date, and any get-together with friends and family. It is very important to get the right fragrance.
 Armaf is a perfume manufacturer from the Middle East, which has been producing authentic and innovative fragrances for over a decade. If you haven't heard about Armaf perfume, then you are not living in this world. Time to find your signature perfume among the different options of Armaf perfume for sale in UAE. Are you ready to become famous with your fragrance?
Why Armaf perfume is important?
Perfumes are much more than just a smell. Your perfume is your identity. One of the most important benefits of wearing Armaf perfume is enhancing mood.  You can also wear that fragrance which reflects your mood and personality. Armaf perfume is the idea of sexual attraction and the increase of desirability.
The fact is that the main purpose of wearing perfume is to keep away unpleasant body odors and make sure you smell fresh every time. Your signature perfume is a statement to the world that you know who you are.  Below some benefits of Armaf perfume are mentioned:
Armaf Club de Nuit Intense Man
Launched in 2015, this is a woody, spicy fragrance which features lemon, black currant, apple and pineapple, rose, jasmine, and rich middle, and vanilla, musk, and patchouli.
Armaf perfume help boost your confidence level and boost your morals.
Armaf perfume also enhances mood. You think it's similar to the above, it's not. Your mood is what you want to feel like at occasions and parties.
Armaf perfume makes you attractive. Your smell is your first impression when you enter any place. It makes you memorable among all.
Armaf plays a major role in triggering memories. It triggers memories of people in the mind, which can be a powerful advantage.