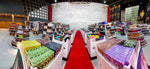 Sterling Perfumes Industries LLC inaugurated 'The World's Largest Perfume Wall' at their facility in DIP 2, Dubai, UAE. The wall is created to honour in commencement of the 25th year of Sterling in 2023 since its inception in 1998. The wall is studded with 2760  perfumes, all of which are unique and manufactured in-house by the 'House of Sterling'.
After an award-winning hat-trick in 2022 from three major entities in the industry in Q3 and Q4, Sterling is poised to break records this year as well. The wall marks an ode to the Fakhruddin legacy and Chairman – Mr Ali Asgar Fakhruddin's vision of what they like to refer to as 'The Perfume Palace'. The Chairman's vision has no bounds, and the construction of this mega wall speaks for itself. The perfume wall is a fitting representation of the grandeur and elegance of the Fakhruddin Foundation.
The wall is built in Sterling's first retail outlet showcasing all of its perfumery products with the option to buy in-store with a one-of-a-kind lounge experience. The wall aims to set a Guinness World Book record for the Largest Perfume Wall in the world. Achieving this magnitude and creating such an installation demonstrates Sterling's limitless potential.