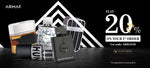 Summers are synonymous with sunshine and happiness. However, we cannot deny that it takes a certain level of endurance to survive the hot humid weather. It becomes quite a struggle to make sure you always smell good.
Even the best perfumes can seem to just melt or disintegrate off the skin. So how can you make sure your smell good all day long?
Firstly, pick your favorite Armaf scent. Suppose, you are a fan of the ever popular
Club De Nuit
Intense Men fragrance, understand the basic notes of the fragrance – Club De Nuit Intense Men is very robust with a provocative woody spicy masculine scent. It has vibrant citrus notes with Birch and Patchouli. This understanding is significant, as any other products you use along with your perfume should complement the fragrance of your perfume.
Of course, good hygiene is of utmost importance – use a good shower gel or bath scrub with a complementary fragrance to get yourself squeaky clean.
Then use an oil based moisturizer like the Club De Nuit Body Lotion. This may seem counterproductive in the summer, but an oil based lotion helps create a base your perfume can cling to. The lipids in the lotion help intensify the fragrance so your perfume will smell stronger and last longer.
The next step would be to use the Club De Nuit Intense Men perfume oil on your pulse points. Since perfume oils are essentially a concentrate, they last much longer than any perfume could. In addition, point is that perfume oils are resistant to sweat, making them all the better for humid summers. The most popular pulse points to cover with perfume oils are behind your ears, down the center of your neck into your décolletage, on your wrists, behind the knees and behind the elbows.
Finally, spritz on your favorite
Armaf UAE perfume for men or women
, be sure to spray over the oil on the pulse points, helps lock in the perfume
Now you are ready for a full day of smelling fabulous!
Shop for the best men's & women\s perfumes in UAE only on www.armaf.ae