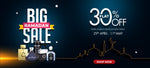 As the UAE has already stepped into the holy month and summer approaching, finding the perfect perfume and fragrance for this time of year can be an intimidating and tiring task. Fragrances have been a foreseeable part of the month of reflection, and is also a go-to choice for heartfelt gifts to friends and family in preparation for the auspicious festivities of Eid al-Fitr. To keep you eased on this, we have round up a couture collection of branded perfumes online with
Armaf
.
While there are several offers on perfumes online during this month, one such signature scent available from the House of
Armaf perfume online
is an absolute sensation to make finding the right perfume for both occasions more effortless. The Club de Nuit series by Armaf for men and women is their most eminent collection of fragrances recognized for their everlasting finesse.
Top recommended
men's perfume for sale in UAE
from the Club de Nuit collection:
For the coming ten days, men's perfumes for sale in UAE on the Armaf website consist of a plethora of fragrances to choose from. Some of the men's perfume that we recommend are:
Club de Nuit Intense Man EDP
Club de Nuit Intense 150ml - Pure Parfum
Club de Nuit Milestone
Club de Nuit Sillage
Top recommended
women's perfume for sale in UAE
from the Club de Nuit collection:
Armaf's Ramadan big sale is all set to elevate your shopping experiences with women's perfumes on sale. The best to choose from the CDN collection is:
Club de Nuit Women
These are some of our favorite five luxury fragrances for our customers every Ramadan, and we bet you are going to love them too! To ensure that patrons of our brand buy and cherish authentic Armaf perfumes online and keeping pace with digitalization in the region, we recently launched our very own website in the UAE. Find the best offers on perfumes online this Ramadan exclusively on Armaf's website www.armaf.ae. Armaf's Big Ramadan Sale in live on our website from April 29 to May 11, 2021.
.