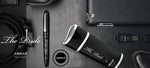 ARMAF Perfume Online for sale in UAE
Smell can evoke feelings and bring back forgotten memories. ARMAF Perfume in UAE is, quite simply, a mastery of some of the most frequent scents, and the artful combination thereof to produce a unique smell for an individual person. Perfumes are worn to leave a good impression, please others & surround oneself with a pleasant, lingering scent.
ARMAF, a luxurious French fragrance brand from the house of STERLING, presents a couture collection of stylish, invigorating and inspiring scents for the modern man and a collection of glamorous, indulgent and irresistible designer fragrances for every woman. Club de nuit series by ARMAF Online is their most celebrated collection of fragrances known for their timeless excellence & finesse.
The most notable ARMAF men's perfumes for sale in UAE is Club de nuit Intense.
Crisp, Vibrant & Bold, The Club de Nuit Intense Man by ARMAF is a prized possession!  The most iconic ARMAF women's perfumes for sale in UAE is Club de nuit Woman. It is a must-have fashion accessory for the stylish woman!
Now with the recent progressive shift to Digital, consumer shopping online has increased significantly across many categories. Just like any other things, consumers can now select and buy branded perfumes online from the comfort of their homes.  
To provide customers with their latest & exclusive collections, ARMAF has opened an online store for UAE customers. Ensure to find amazing deals & offers on perfume online throughout the year at their e-commerce store.  In fact, take advantage of the Super Sale that is happening right now at www.armaf.ae and purchase your favorite ARMAF perfume online at a discounted rate! The Super sale that runs from 25th to 28th March, offers nearly 10 to 50% off on many of their best seller fragrances.