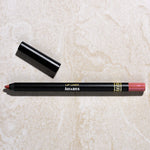 Embrace Ethereal Beauty with Boundless Precision

Embrace the enigmatic allure of the zodiac's visionary water-bearer and immerse yourself in the captivating essence of our Aquarius Lip Liner. Inspired by the unconventional and forward-thinking nature of Aquarius, this lip liner empowers you to express your individuality with boundless precision. Step into a world where ethereal beauty and limitless creativity intertwine, and let your lips become a mesmerizing canvas of artistic expression.

Aquarius Lip Liner embodies a collection of shades that exude a sense of ethereal beauty and unbounded creativity. Like the ever-flowing currents of a mystical river, this lip liner captures the essence of fluidity and imagination, enveloping your lips in a veil of enchanting beauty. Let its vibrant hues enhance your lips, allowing you to express your inner visionary with every stroke.

Crafted with meticulous care, Aquarius Lip Liner features a smooth and precise formulation that effortlessly glides across your lips, ensuring seamless and accurate application. Its creamy texture provides a comfortable wear, allowing you to showcase your artistic lip masterpiece from morning to night, from artistic endeavors to intellectual gatherings.

Experience the art of imaginative definition with Aquarius Lip Liner as it delicately shapes and contours your lips with boundless precision. Its versatile application empowers you to create sharp and defined outlines that amplify the natural curves of your lips, reflecting your creative spirit. Embrace the transformative power of this lip liner, and let your lips become a captivating expression of artistic beauty.

Aquarius Lip Liner harmonizes effortlessly with a variety of lipsticks and glosses, enabling you to create stunning combinations that reflect your unique style. Experiment with shades that evoke a sense of mystery and creativity, allowing your lips to become a testament to your artistic vision. Let your lips become a canvas of ethereal beauty, inspiring others to embrace their own creative journey.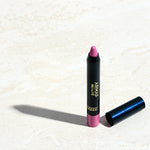 A Sweet Symphony of Playful Definition

Get ready to indulge in a deliciously vibrant lip experience with our delightful Crayon à Lèvres named 'Macaron'. Inspired by the whimsical and colorful world of French pastries, this lip definer is your key to unlocking a world of playful definition and delectable allure.

'Macaron' glides effortlessly across your lips, leaving behind a smooth and creamy texture that is reminiscent of the delicate touch of a pastry chef. Its formulation delicately shapes the contours of your pout, creating a precise and playful outline that enhances the natural shape of your lips. With each stroke, your lips become a canvas for artistic expression, radiating a sense of joy and sweetness that captivates all who see them.

The shade of 'Macaron' embodies the vibrant and irresistible colors of these delectable French treats. From soft pastels to bold and daring hues, this lip definer offers a spectrum of playful shades that suit every mood and occasion. With 'Macaron' adorning your lips, you exude a sense of whimsy and youthful charm that is sure to brighten any room you enter.

Indulge in the long-lasting wear and creamy texture of 'Macaron'. This exceptional crayon ensures that your lip color stays vibrant and true throughout the day, allowing you to savor every moment with confidence. From brunch dates to evening soirées, 'Macaron' remains steadfast, infusing your lips with luscious color and a touch of delectable allure.

The irresistible design of 'Macaron' Crayon à Lèvres captures the essence of these delightful French confections. Encased in a charming pastel-colored barrel adorned with whimsical patterns, it adds a touch of sweetness to your beauty collection. Its compact size makes it the perfect on-the-go companion, ensuring that you're always ready to redefine and refine your lip look with a playful stroke.